In my February bucket list, the second item I mentioned was "cooking a ramen". Now that I've done it, I don't see why it was a dish that used to impress me. I'd always considered it as hard and impossible to make, but it turned out to be an easy, healthy, fun and fulfilling meal.
To make the dish, I spent time researching various recipes and decided to combine a bit of each. The key is in the broth. The noodles, mushrooms and other toppings are up to you to choose.
Here's the Ramen recipe we made on Monday night to inspire you 🙂
What you'll need (for 5 persons)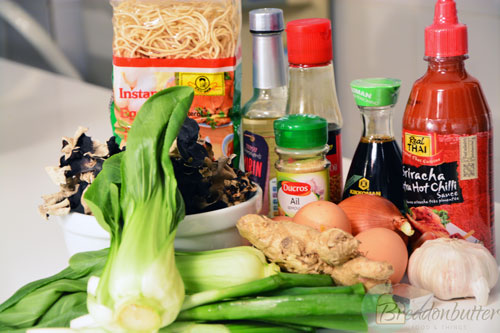 1 small Onion, chopped
3 cloves of Garlic, sliced
1 tbsp of Ginger, grated
2 tbsp Sesame oil
2 tbsp Sriracha Sauce
2 cups of Water
3 cups of Vegetable Broth
3 Spring onions, chopped
Soy sauce
Mirin (or rice vinegar)
Noodles of your choice
2 cups Portobello mushrooms, sliced
Bok Choy
5 Eggs (1 egg per bowl)
Salt, to taste
How to make it
In a large saucepan, heat the sesame oil. Add the onion, garlic, ginger and Sriracha sauce and cook until combined
Add 2 cups of water and let it simmer for 3 minutes. Transfer everything to a blender and mix until combined. Put the mix back in the saucepan
Add the vegetable broth and let it simmer for 10 minutes
Add the mushroom water, season with salt, soy sauce and mirin and let it simmer for 4 minutes
Add the noodles and cook until tender
Add the mushrooms and let simmer for 2 to 3 minutes
Meanwhile, half-boil the eggs and remove the shells
Top the ramen with bok choy and spring onions
Move the mix to a bowl and top with the half-boiled egg, sliced and runny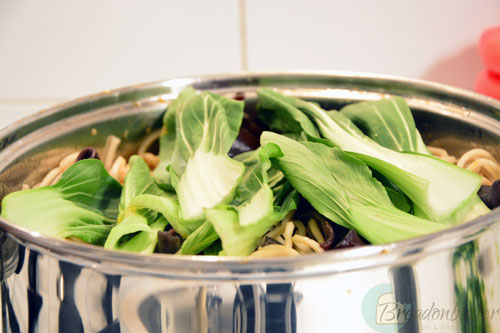 And enjoy!
Note: You can season with additional soy sauce if needed.
Are you a fan of ramen? Any tips?