This month's choice of foodie book is completely in line with my diet lately. With the whole 30 challenge, a change of appetite is exactly what's been going on. This book was a coincidental find and I absolutely love it. The author, Diana Henry, created this book's recipes when she started craving a different kind of diet. The kind that contains less meat and heavy food and focuses on vegetables, fish and grain-based dishes. What I love the most about the recipes in the book is that they are inspired by Middle Eastern and Far East food, passing by Georgia and Scandinavia.
Throughout the pages, you'll find fresh and light dishes to inspire you to a healthier lifestyle. My favorites until now are this marinated cherry salad (which I tweaked a little bit) and a brown rice salad I'm looking forward to make when I can finally have rice again. There's also a pistachio lemon cake I'll be making soon.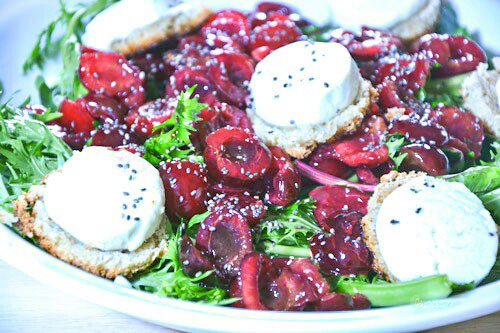 Prepare to open up to new food possibilities that can only make you feel good.
Click HERE to follow our foodie and travel journey on INSTAGRAM @breadonbutter_
and HERE to get your daily Breadonbutter news on FACEBOOK
Don't forget to tag us if you try our recipes and tips: #breadonbutter