In one of this year's bucket lists, I vowed to find new ingredients and twist recipes around. Since then, I've discovered new types of flour, milk, butter and oil, all of them healthier than one another. I've replaced the traditional ingredients I usually use in cakes and snacks with these recently discovered healthy options, and it hasn't made any difference in taste whatsoever. Plus my pants are a little looser (!).
Yesterday, as you might've seen on Instagram, my sister (who's visiting) begged me to make a version of a smoothie she saw on the net. Since it was improvised, I had to make do with the ingredients we had at home. It turned out delicious and with a mousse-like texture. Here's the recipe to what I now call a chocolate smoothie mousse.
Lactose-Free Chocolate Smoothie Mousse Recipe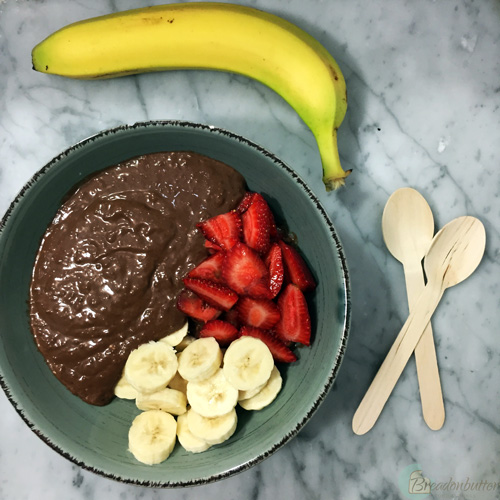 What you'll need:
1.5 Tbsp almond oil
2 Tbsp raw cocoa powder
1.5 Tbsp chia seeds
1 cup almond milk
1 whole mango (or any other fruit of your preference)
How to make it:
– In a blender, place all of the ingredients and mix until everything is combined and you get a mousse-like texture.
Enjoy with any fruit in season (what we had at home was strawberries and bananas). You can also add oat flakes on top.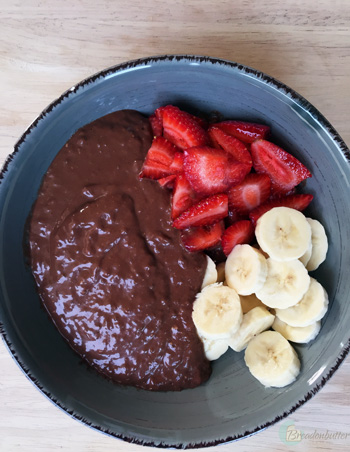 Any ingredient you'd add? 🙂
Click HERE to follow our foodie and travel journey on INSTAGRAM @breadonbutter_
and HERE to get your daily Breadonbutter news on FACEBOOK
Don't forget to tag us if you try our recipes and tips: #breadonbutter