Lately, I've been hearing a lot of people talk about their Kindles, how simple it is and how much they love it. Lots of other people also talk about how when they need a specific recipe, all they have to do is google it. I might be a bit old-fashioned when it comes to books, but I can't live without them yet. I still go for a read I can touch instead of yet another electronic object. In fact, we visit bookstores twice a month, in an endless pursuit of fine discoveries and inspiration, and that's why, we'll be selecting a great foodie book every month of 2015 to inspire you.
January's Foodie Book of the Month is 'Seasons' by DONNA HAY
What's excellent about this recipe book is how it is divided into seasonal sections. Whether you're looking for a fresh summery salad, a cozy cake or a warming soup, this is the book for you! It's not new but it's an absolute must-have for aspiring and amateur cooks. The recipes and ingredients used are simple and accessible, yet creative and innovative. I've often mentioned Donna Hay and I have to say I'm getting addicted to her ideas.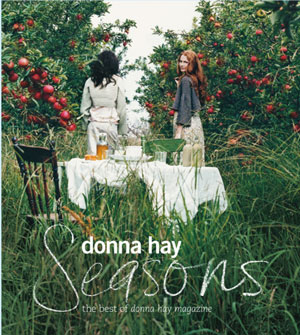 Already 3 recipes inspired from this book have been featured on Breadonbutter: These BBQ-ed Prawns, This Coffee Cake and This Pumpkin Soup. Check them out, they're simple and delicious!
Are you a book person? I'd love to know about your favorite food books! 🙂