Usually, when hosting gatherings or cocktail parties, it's fun to have a bar corner filled with pitchers of margaritas, fizzes and sangria. Having both red and white sangria would be perfect for different tastes and preferences. So as a sequel to this Red Sangria I posted at the beginning of summer, here's a refreshing White Sangria you can make.
What you'll need (for 8 glasses):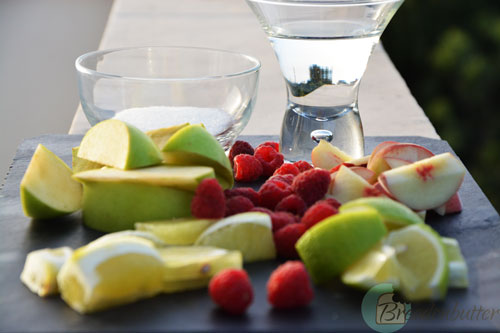 – 3 tablespoons of Sugar
– 3 shots of the apple liquor of your choice (we like Marie Brizard)
– 1 sliced lime
– 1 sliced lemon
– 2 peaches cut into wedges
– 2 green apples, also cut into wedges
– 1 box of raspberries
– A bottle of Prosecco (we chose the Martini brand here and it was great!)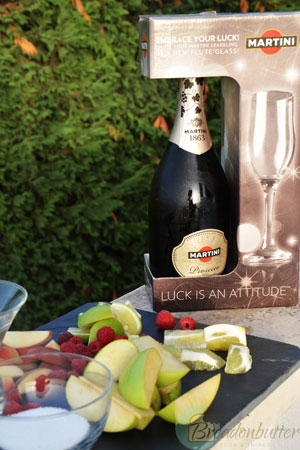 How to make it:
1) Combine the sugar, apple liquor, lime, lemon, peaches and apples in a pitcher
2) Pour the whole bottle of Prosecco on top and let it chill in the fridge for as long as you can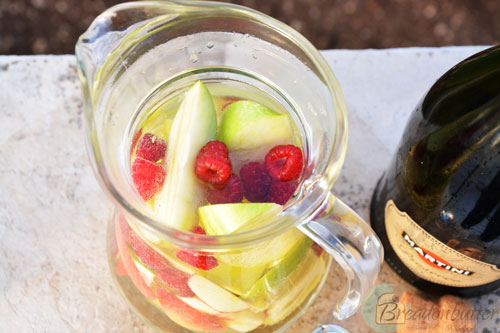 And voila! The Prosecco is actually the best for a white sangria as it represents the white wine and soda water combination usual recipes add to it. Also, the more colorful the fruits, the more summery and fresh your sangria looks.