I know a red velvet cake on Valentine's day is a bit cliché, but this wasn't actually planned. On Friday, my urge to bake kicked in during the rainy afternoon. I hadn't planned to make a cake so I had to make do with the ingredients that were already in the pantry. No way was I going out again in this weather. I went in the kitchen with the idea of making something sweet without knowing exactly what. So I opened the pantry and looked around. I had self-raising flour, baking powder, cocoa powder and sugar. In the fridge, I had margarine, eggs and milk. My eyes suddenly fell on that red food colorant I had bought a few weeks ago to make yet another red velvet, as I have failed this recipe 3 times already.
But this time was different. Baking this cake was so improvised and based on intuition that it worked better than any previous time. I know very well how to make an easy chocolate cake and all I had to do was to throw in some red colorant on top. With a bit of music and a fun mood, it turned out to be a great success. I suggest you make it in case you're planning on surprising someone with dessert tonight 🙂
On another note, if  you're looking to be creative with your cake, I suggest you make a parfait out of it. Scroll down for the recipe and to learn how to turn it into a parfait.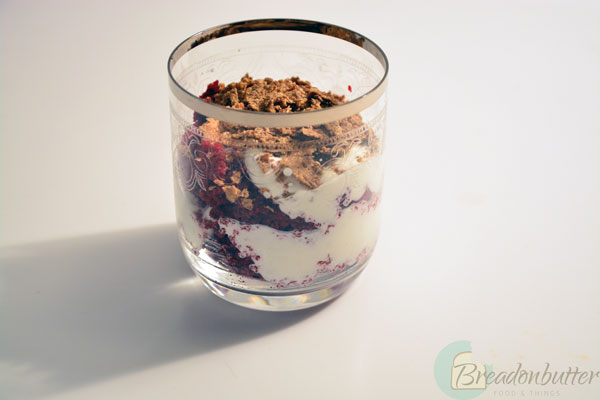 Here's what you'll need to make the red velvet:
For the cake
150 g margarine or unsalted butter
150 g sugar
2 eggs
2 drops of vanilla extract
150 g self-raising flour
1 tsp baking powder
3 tbsps milk
2 tbsps cocoa powder
Half a small bottle of red food colorant
For the frosting
100 g unsalted butter
300 g icing sugar, sifted
1 tsp vanilla extract
75 ml double cream
How to make it:
1) Preheat the oven to a 220 degrees Celsius
2) In a mixer bowl, beat the margarine/butter and sugar until light and fluffy
3) Add the eggs and vanilla and beat well
4) Fold in the flour and baking powder, mixing until well combined
5) Add the milk and mix well
6) Divide the mixture into 2 cake tins and bake for about 25 minutes or until a skewer comes out clean. Set aside to cool
7) Make the frosting: Beat the butter until fluffy and creamy, add the sugar, vanilla and cream then beat on low speed to combine then on high speed for 2 minutes.
To make it a normal cake:
– Spread frosting on top of one of the cakes, sandwich them together, then cover them both with frosting. You can decorate with hershey kisses on top.
To make it a parfait:
– Crush the cake (as heartbreaking as it sounds)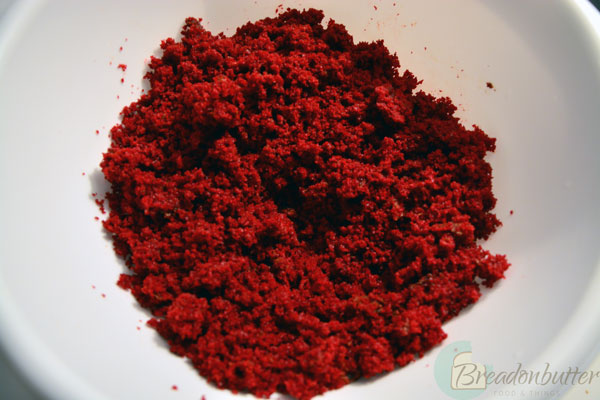 – In a glass (preferably round), layer cake bits and frosting, adding oat corn flakes on top for added crunch!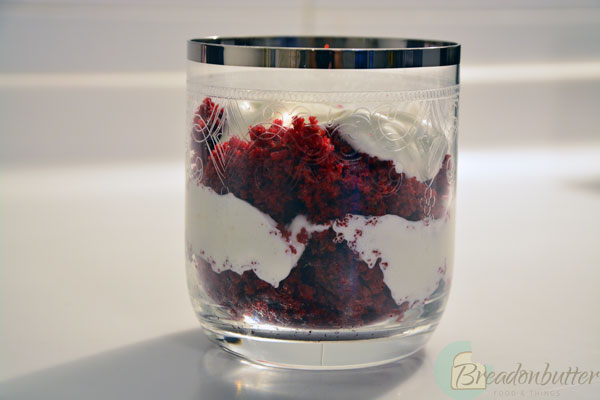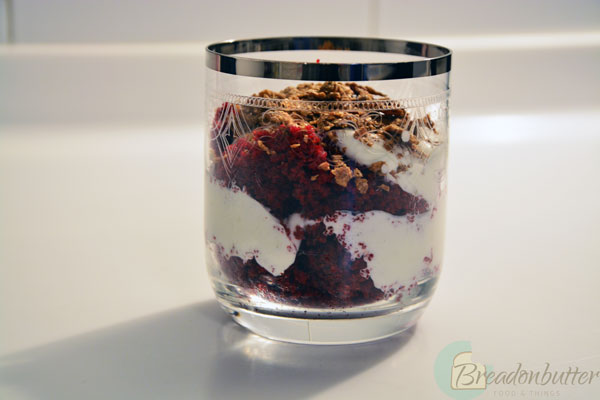 Enjoy 🙂
Any thoughts?
Click HERE to follow our foodie and travel journey on INSTAGRAM @breadonbutter_
and don't forget to tag us whenever you try our recipes 🙂