I frequently visit AZIZ Delicatessen, one of the most famous delicatessen houses in Lebanon. Known for its high-quality exceptional food products, Aziz has never lost its quality and can always be trusted.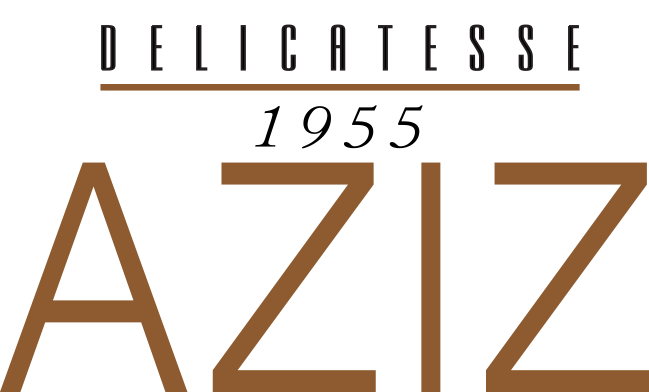 When we walked in the Kantari branch one evening to get wine for a night in with friends, I saw Aziz Junior 🙂 , a friend of my sister's. In our conversation, I asked if I could get some tips for the coming holidays, what for the different menu musts and the best way they could be paired with wine, champagne, and other drinks. And that's why I bring you today the first part of ideas for your Christmas menu, brought to you by one of the country's most renowned delicatessen houses, AZIZ. First things first, let's start by summarizing the essentials of a Christmas table.
Christmas Table Essentials
The classic starters mainly involve Foie gras (THE Christmas classic), an acquired taste that comes with time, as well as smoked salmon, caviar, cold cuts and cheeses (part 2 will be all about the cheese and charcuterie, so stay tuned).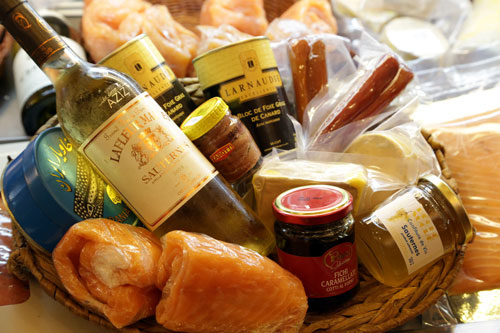 For the main meal, most houses cook a nice turkey for Christmas. Some, like my mom, name it after a Saint or someone who brings luck throughout the year to come. In other houses, lamb meat, duck, or fish is cooked as the main dish. You can combine the turkey with one of the latter, like a nice honey duck or fish.
Last but undeniably not least, come the desserts and pastries. We all know the ones we prefer: Buche, Mont Blanc, Pavé aux marrons, Marronier, Profiteroles, Meringues, and typical French pastries like tarts, éclairs, etc. A pure delight.
In collaboration with AZIZ Delicatessen, I'm sharing with you today 3 different menus you can make this Christmas (or order from AZIZ catering).
Menu 1
 Starters
Foie Gras platter
Smoked Salmon platter
Caviar
Quinoa and shrimps salad
 Mains
Turkey with vegetables
Sea food Paella
Cooked ham with fruits
Desserts
Buche (either chestnuts, praliné, moka or the regular chocolate one)
Aziz also offers the mix of the 4 tastes
Mont blanc
  ~~~~~~~~~~~~~~~~~~~~~~~~~~~~~~~~~~~~~~~~~~~~
Menu 2
Starters
Foie Gras en terrine
Caviar
Salmon cake (sushi cake)
Endives salad
Mains
Venison Leg
Roasted duck with orange, served with tagliatelles
Green curry shrimps
Desserts
Chestnut pavé
Chocolate Buche
   ~~~~~~~~~~~~~~~~~~~~~~~~~~~~~~~~~~~~~~~~~~~~
Menu 3
Starters
Sep or Asparagus Tart
Cold cuts platter
Black and white truffles linguines
Spinach sprouts, pecan nuts, pears, cranberry and blue cheese salad
Mains
Capon with vegetables
Lamb leg, apples and pineapples, marinated in honey
Thai style shrimps, mango sauce
Desserts
Marronier
Fruit Tarts
  ~~~~~~~~~~~~~~~~~~~~~~~~~~~~~~~~~~~~~~~~~~~~
Of course, you can add to it all potatoes in the oven, quiches (I promise an easy recipe real soon) and salads.
But, what counts the most is the combination of all this food with the fitting drink. So let's pair your menu with the dishes' drinks, as per Aziz's recommendations.
The Foie Gras (Jean Larnaudie)
You can choose from a variety of flavors, like duck foie gras, Foie gras de canard, Foie gras d'oie, Foie gras de canard truffé, Foie gras d'oie truffé, Foie gras de canard au torchon, Foie gras d'oie au torchon, Foie gras en terrines.
It is best paired with sweet wines. The best sweet wine you can find at AZIZ is Les Sauternes or Alsatian wines like Gewürztraminer Selections de Grains Nobles and Gewürztraminer Vendanges Tardives .
Foie Gras is also delicious when paired with wine jam (also Sauternes) or fig chutney.
The smoked salmon
It can be paired with white or red wines. More specifically, if you're looking for the best brands, you can go for:
In white wines: Pouilly-Fumé and Sancerre or even a south african Cape Heights.
In red wines : AZIZ' famous Crozes Hermitages 2011 Les Allegories or Saint-Joseph Hermitage 2012.
It also works very well with the full-bodied wine from Chile, the Montevista Carmenere 2010.
The Caviar
When it comes to caviar (Beluga Royal is the type you can find at AZIZ), you can have it with Vodka on the rocks.
For wine lovers though, dry white wines should do, more specifically Chardonnay and Semillon grapes. One brand you can choose is Chablis or Ch. Carbonnieux 2010
The Lamb Meat
If you choose a menu with lamb meat as a main meal, you can shop for a variety of Red wines, ideally cahors and wines from the Rhone Valley.
You can ask for the following while shopping at Aziz: Ch. de Chambert 2009 (cahors); Chateauneuf du Pape 2010, Les Choregies (Rhone Valley) – For Burgundy lovers, their famous Nuits Saints Georges 2011 Domaine Faiveley.
The Duck
The duck should be paired with Red wines, ideally with Ch. de Valandraud 1999 and 2000. Ch. Beauregard 2006 , Ch. Clinet 2003.
The Fish
It is known to all that fish or dishes like Seafood Paella are to be paired with white wine. Sancerre, Chablis, Meursault, and M de Minuty are just a few brands to choose from.
The Turkey
Now for the most consumed dish at Christmas, the Turkey shall be eaten accompanied by Red wines from "Premieres cotes de Bordeaux" and "Cotes de Blaye". Brands to look for are Ch. De Paillet-Quancard 2009 and Ch. D'Aiguilhe 2010
Dessert and Pastries
Ideally, they are had with Champagne. At AZIZ, they have 2 of the most delicious champagne brands there are: Billecart-Salmon And Joseph Perrier.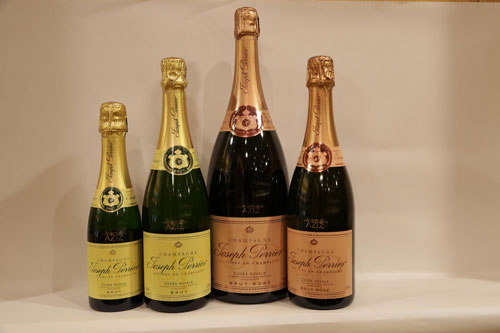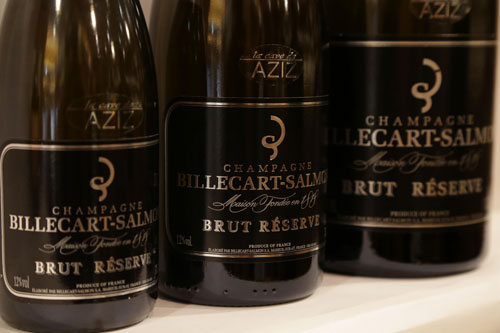 And there you have it!
 Of course, all you need to do is go there and ask for the great advice they all know how to give.
However, if you're not hosting a Christmas party at your house but going around several ones to visit family, you can combine foie gras with their assorted wines and chutneys and take them as a gift to your host. You can do the same with dessert and even add a nice Cognac bottle (Delamain) for warmer winter nights.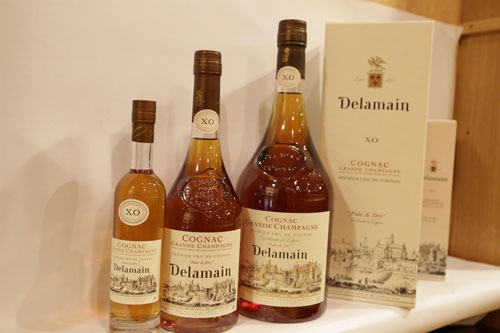 What is the item you buy the most from AZIZ Delicatessen? And anything to add to these ideas?
You can visit their website here and facebook page here for more information. Also, follow them on instagram: @azizdelicatesse
Click HERE to follow our foodie and travel journey on INSTAGRAM