I've been thinking lately about the cake recipes I already master (example lemon cake, fluffy chocolate cake and baba au rhum), and decided it was time to add a few newcomers to the list. So I've been trying out new ones, this one included. I wasn't expecting it to be an immediate success but it definitely entered the list of possible cakes to bake when in need of a warm snack.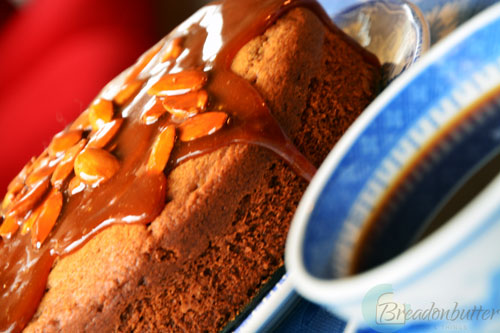 The preparation doesn't take much time, but it does need baking time so be patient.
Coffee Cake Topped With Caramelized Toffee Nuts
What you'll need: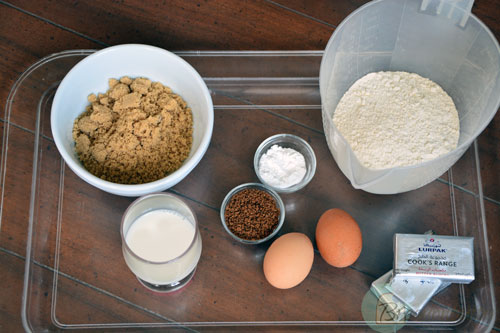 For the Cake
 150 g unsalted butter, softened – You can use the Lurpak Cook's Range butter blocks for better measurement, they're 50 g each.
130 g soft brown sugar
1 egg
1 egg yolk, extra
150 g plain flour, sifted
1 tsp baking powder
1 tsp hot water
1 tbsp instant coffee
0.25 cup skimmed milk
For the Toffee Nuts
220 g caster sugar
0.5 cup water
20 g butter
100 g raw almonds (or any choice of nuts, they can also be mixed)
How to make it:
Preheat the oven to 180 degrees Celsius
Place the softened butter and brown sugar in a bowl and beat for about 10 minutes until creamy
Add the egg and egg yolk and beat well
Add the flour and baking powder and beat until combined
Place the coffee and hot water in a cup and stir
Add the coffee mixture and milk to the butter mixture and fold through
Spoon the mixture into a greased mold
Bake for 45 minutes or until a skewer comes out clean, then set aside
Make the toffee nuts: In a saucepan, place the caster sugar, water and butter on medium heat. Stir until the sugar dissolves, then bring to the boil. Let it simmer for about 10 minutes until dark golden, then continue mixing with a wooden spoon until a soft caramel paste forms. Add the nuts and stir to combine. Spoon immediately over the cake and serve!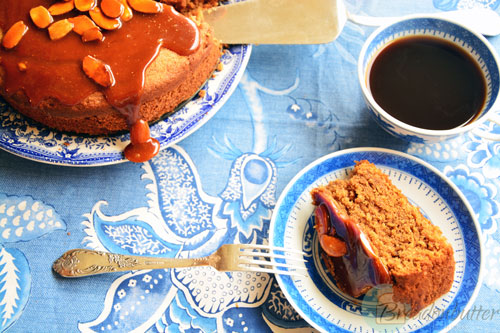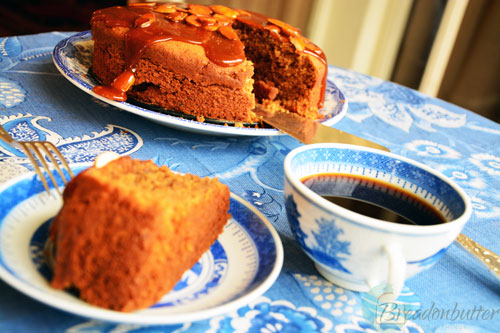 Are you a coffee lover? Would you make this cake?
Items used in photos: Tablecoth from Zara Home; Plates, Cups and Forks from my mom's cupboards 😉
Click HERE to follow our foodie and travel journey on INSTAGRAM
and don't forget to tag @breadonbutter if you try our recipes!