I've been watching people cook for as long as I can remember. Writing down kitchen tips and hints is known to be my thing and I still carry my old-fashioned notebook in every kitchen I visit (it's actually almost full now and I panic at the idea of buying a new one and starting afresh).
One of the dishes I watch being cooked every single year is the Turkey my mom (Christina) makes on Christmas day. What I love the most about it is that she names it differently every year after someone who brings luck.
Turkey is not usually my thing as I mostly think it's a dry meat that makes me full a few bites through. However, and I'm not saying this because it's my mom, the turkey she makes is never dry. She even succeeded in making people who could never imagine having it for a meal fall in love with it. It's so tender and juicy you can't help not having at least a bite of it, accompanied with its special rice and grilled chestnuts of course. You can check the nutritious advantages of chestnuts in this post by Carla Mourad.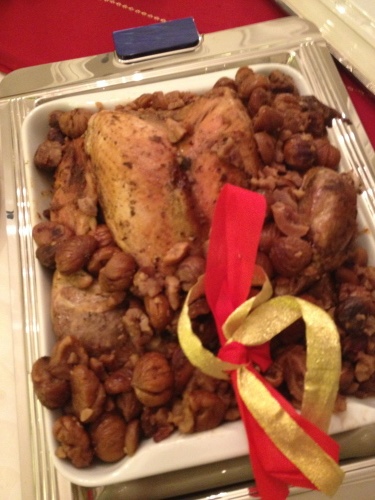 So after years of observations and questioning, I bring you tips to make the best out of your turkey this Christmas!
The Size: Your turkey has to be small – i.e. be a maximum of 6 kilograms, so it doesn't get too dry. The bigger the turkey, the drier it will be. If you must make a bigger quantity for a larger party, 2 small turkeys are better than a big one
The Seasoning: While the turkey is still raw, scrub it with a mix of : 7 spices, coarse salt and lemon juice. Then, rub it well with a mix of Dijon Mustard and Moutarde a l'Ancienne de Dijon (grain mustard)
The Resting Period: Let the kneaded turkey rest in the fridge overnight or even for a whole 24 hours, covered hermetically with aluminum foil
The Roasting: On D day, be careful with the cooking process. The first thing to do is to roast the turkey in a pre-heated oven, uncovered for an hour, on high heat. This allows it to caramelize and bring out its flavors
The Cooking Time: After the 1 hour of roasting, cover the turkey hermetically with aluminum foil and cook it for 4 to 5 hours (depending on its weight – each kg counts for 1 hour) on very low heat
The Juicing Process: Do not leave it for 4 to 5 hours in a row! Take it out of the oven every hour, uncover it and juice it with its own juice. Take advantage to set some of the juice aside for the sauce later
The Hermetic Cover: Make sure to close it hermetically. No particle of air should come out from or enter the turkey dish!
To sum up, the most important factors to pay attention to, are:
Extremely low oven temperature
Mustard and Spices
Airtight cover
PATIENCE! After all, it is 6 hours of dedication to a pretty fat bird 😉
Do you make your own turkey? Any other tips?