After the 6 lip-smaking party food recipes in under 10 minutes we made last month, we found that finger food is more than ideal for the holidays. Like I said last time, it's the most successful during these busy times. You can also go back to the post (here) to follow the 4 steps for successful and efficient kitchen work.
This time, it's all party food crostini recipes. For the bread, I love Bar Tartine's country bread, a nice Ciabatta OR for a really healthy (and yummy) choice, you can try Annette's Crostinis, The Caringly Low Carb brand launched not long ago and available at these outlets.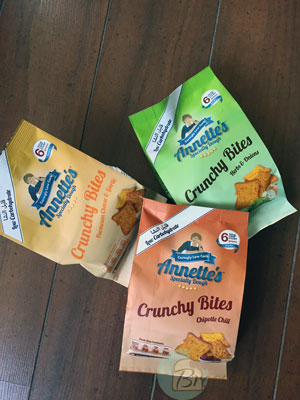 So here are the 3 delicious crostini recipes you can make for your guests: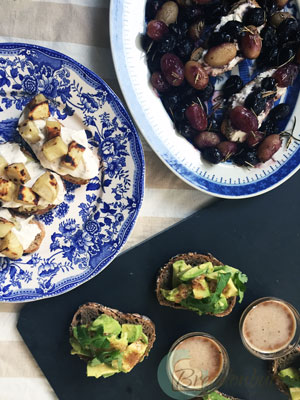 Party Food Crostini recipe I: Sweet Potato on a bed of roasted garlic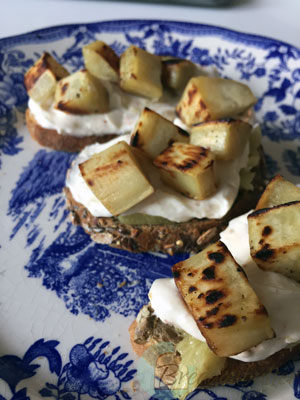 For 4 persons
Ingredients:
2 Heads garlic
1 tbsp olive oil
0.75 cup labneh or sour cream
0.5 tsp lemon zest
salt and pepper
1 medium sweet potato, peeled and diced
Ciabatta
How to make it:
Cut ¼" from the top of each garlic head, exposing the cloves. In aluminum foil, place the garlic and sprinkle it with olive oil. Then place them in the oven for 30 minutes until soft and light brown. Once done, peal and crush them until they form a paste
Combine the labneh or sour cream with the lemon zest, and the salt and pepper to taste. Refrigerate
In a pan, heat a bit of olive oil and place the diced sweet potatoes on medium heat. Cover and let cook until soft and a bit brown
On the bread of your choice, spread 1 tsp of garlic, top with labneh or sour cream then with sweet potatoes
Spicy lovers, you can sprinkle with chili flakes 😉
Party Food Crostini recipe II: Avocado with Sesame Sauce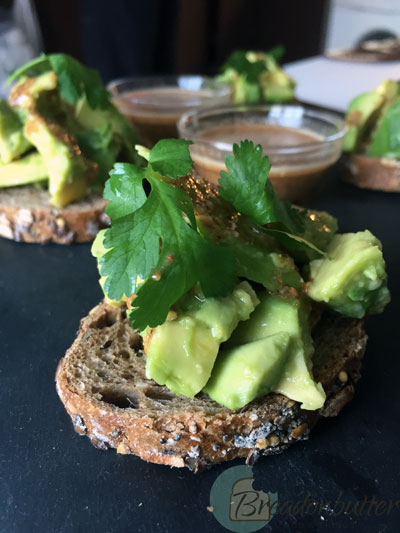 For 4 persons
Ingredients:
1 cup sesame seeds
0.25 raw almonds
0.25 cup raw peanuts
1 cup peanut oil
Salt
2 avocados, diced
1 tbsp lime juice
1 cup coriander leave for garnish
How to make it:
In a small pan, toast the sesame seeds, almonds and peanuts, stirring often until they are golden (about 7 minutes). Then place them in a blender and crush them. Let cool
Add the peanut oil to the mix and blend until it forms a thick sauce. Season with salt, to taste
In a bowl, toss the avocados in the lime juice and add a bit of salt. Then spoon the avocados on top of the bread of your choice
Pour sauce on top, garnish with coriander and enjoy!
Party Food Crostini recipe III: Ricotta and Caramelized Grapes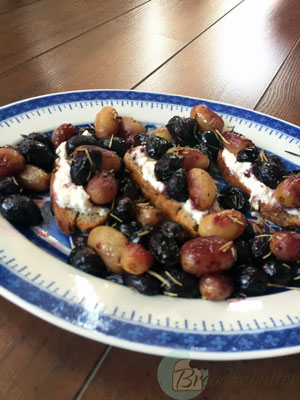 For 4 persons
Ingredients:
1 cup seedless green grapes
1 cup seedless black grapes
1 tbsp balsamic vinegar
0.25 cup fresh rosemary
3 tbsp olive oil
Salt and pepper
0.75 cup Ricotta cheese
How to make it:
Mix the grapes with the balsamic vinegar, rosemary and olive oil. Season with salt and pepper and toss. Place in the oven for 15 minutes until the grapes are softened and their skin starts to wrinkle
On the toasts of your choice, spread 1 tablespoon of ricotta cheese and spoon the caramelized grapes on top
Serve with a drizzle of honey!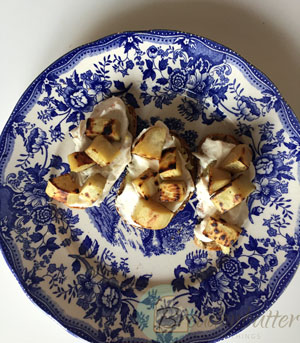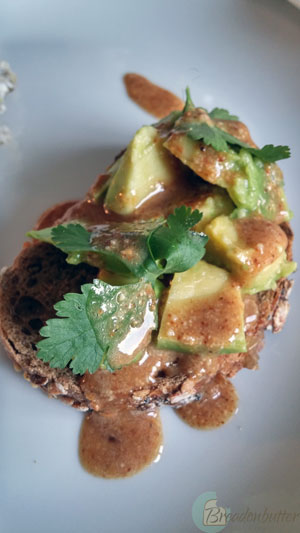 Which crostini did you prefer? 🙂