People who know me well know that sushi is a big part of my life. I sometimes even wonder what it is that I truly love about it: the soy sauce, the rice, or what it's really about – the fish? If the latter's the case for me and for sushi lovers out there, well I got news! Fish population is changing and a lot is happening to it!
Jiro Ono, star of "Jiro Dreams of Sushi", a documentary portraying the 85 year-old world class sushi chef, and owner of the three-michelin star renowned sushi restaurant, has recently warned people about the changes in sushi ingredients that will be happening in the near future. In fact, not only will there be changes, but some fish species might most likely disappear. Ono, host of the top world celebrities like Obama and Joel Robuchon said in a press conference on Tuesday:
I told my young men three years ago sushi materials will totally change in five years. And now, such a trend is becoming a reality little by little. […]

The traditional spread of fatty tuna, eel and shellfish may soon be forced to give way to the bane of any fishmonger — farmed seafood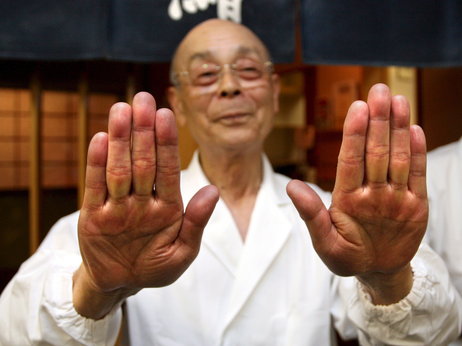 "Many of the ocean's fisheries are on the brink of collapse as populations of some of the most well-known fish species plummet. Earlier this year, the body that monitors bluefin tuna in the Pacific Ocean recommended drastic cuts to catch limits as populations plunged to just 8 percent of their original levels. 80 percent of the world's bluefin is consumed by the Japanese and demand elsewhere is only growing."
Source: Huffington Post
In some countries, actions are being taken to address the issue of overfishing and there are even plans to create fish sanctuaries to protect the endangered species. This makes you wonder about countries by the sea, like ours. Will the people in charge of this matter, deal with it properly?
What do you think of this? Would you continue having your weekly sushi meal if you knew the fish was raised in a farm?
P.S. Below is the "Jiro Dreams of Sushi" trailer for you to watch!