This Article was published in the Summer 2014 issue of The Carton. Below is the original, unedited version. The pictures were taken by Roï Saade (Roï Gallery) at Beit el Batroun, Batroun, Lebanon and Beyt, Mar Mikhael, Beirut, Lebanon.
When you're Lebanese, you're bound to know someone who makes and distributes homemade jam, and with every season, comes a different type of jam. We all typically have them for Breakfast except for three jam flavors that usually relate to "asrouniyeh".
Asrouniyeh is typically defined as being a time during the afternoon, where the world slows down a little. You can picture a summer asrouniyeh by just imagining a sunny afternoon, children playing and parents resting in a backyard in the mountains. You can also picture a winter asrouniyeh by imagining a warm and cozy living room; it's starting to get dark after a day at school or work and the day is almost coming to an end. Unchanging between the two seasons and this time of day are three specific jam flavors, Fig, Apricot, and Quince.
Frequently, their production starts at the very core of nature. Jam makers wake up very early, before the sun even comes up and is not yet very strong, to pick fresh fruits. Another classic homemade jam maker, if without any fruit tree in the garden, buys figs, apricots and quince from people they know and trust, which grow them right in their garden. They buy the fruits still fresh and start the process. Figs can be made in three ways. They are either completely dried in the sun then made, or made while they're still mellow, or between the two. It is then that the whole process starts. Normally, in villages, people gather and make jam together (especially different generations of women of the same family). They spend hours boiling it, stirring it, and putting all of their love into it. It's a tradition that was slowly disappearing but is sure coming back with the rise of the "healthy eating movement" and organic food trend. When done, jams are carefully put in jars and carefully placed in the "mouneh" (a place where everything is kept to last for a very long time), distributed to neighbors, family members, friends, as a sign of care, friendliness and familiarity. Most of the time, homemade jam is also shipped overseas, or given to trusted people who live abroad and can deliver them safely to children studying or living in other countries than their own. Jams also take on a more commercial aspect. Villagers sell their jams to city people, sell them in the village, participate to markets or even offer them as dessert in their own restaurant.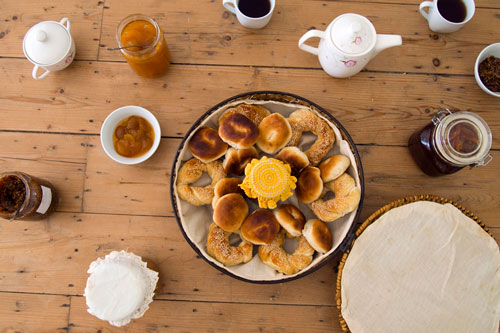 The portrait of a woman who makes jam is a caring mom, traditional in her way of thinking, while at the same time adapting to modern days. She cares a lot about her family and their health and is into everything natural and organic. While talking to one of these women I very well know, she says matter-of-factly that figs are not available all year long and this is why fig jam is made in big quantities, to last the whole year. Children like them and they're healthy, natural and full of vitamins at the same time. Fig, apricot and quince jam are habitually put on the table in the afternoons in summer, children eat their "tartine" (Arabic bread sandwich filled with jam and a bit of butter) after a long day of playing outside for a nice sugar rush instead of having less natural sweets and desserts sold at the supermarket. Adults may have them with simit, kaak or Arabic bread. Only water is served as a drink because fig and apricot are already too sweet. Water in summer, but tea in winter. After a long day at school or work, a nice tea with jam and bread is ideal to keep people warm. Nuts can also be added to it all. For this caring mom, asrouniyeh means preparing a snack for the kids. Fig or apricot jam are the ultimate asrouniyeh snack, served with Arabic bread and rolled with butter inside. Kids like apricot more, whereas adults prefer figs. Quince is more for people with sensitive pallets; people who appreciate sophisticated food more.
As I said before, fig, apricot and quince jams are more traditional than other types of jams. In Lebanon, they are all characteristically taught from generation to generation. It's a time of year where everyone gathers and makes jam. But they have gone from traditional thinking to modern thinking, with the organic food trend that is nowadays bringing this tradition back, even in the cities.
Walking around in Beirut lately, you can notice "mounehs" even more than before. People selling specialized jams made in villages. Even the emerging B&B's have their own mounehs. At Beyt, in the heart of Mar Mikhael, Beirut, fresh organic food is sold and cakes, pies or cookies are baked everyday. A "namliyye" (that can be defined as a vintage-looking cupboard) is well organized in the kitchen with homemade jam sent from an old lady in Syria. It's full of jam and flavors. Beyt's garden is ideal for an afternoon tea with a bit of jam, butter and bread. It's a hidden garden in the heart of the city. Outside the city, another B&B, Beit el Batroun, is a homey place where you literally can get away from all problems. There, they keep their jams on a beautiful little shelved space in the kitchen to serve their clients in the morning or afternoon. Seeing those jams, it immediately feels like home.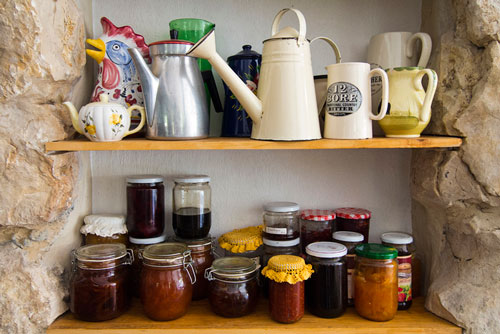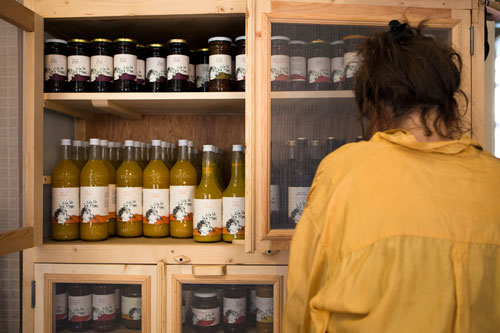 Recipes:
Note: The less water there is in the fruit, the more the quantity of the fruits is equal to the final jam serving (because less water evaporates). Quince is the fruit with the less water.
Fig Jam:
Ingredients for 1.5 kg jam serving:
–       2.5 kg of figs
–       1 kg of sugar
–       The juice of 1 lemon
–       500 g Baked sesame seeds
–       3 small Cinnamon sticks.
First, choose the way you want your figs to be. You can either dry them in the sun, or leave them in their natural state.
–       Peel the figs (while being careful not to crush them).
–       Place the figs and sugar in a big casserole (that is not too deep) and boil them on a low fire for about 1 and a half hour, stirring often.
–       Add the lemon juice, a cinnamon stick (that you will later remove) and stir often until it becomes thicker. When it does, sprinkle baked sesame seeds over the whole casserole and immediately place them in jars, closing well the lid.
Apricot jam:
Ingredients for 1.8 kg serving of jam:
–       2.5 kg of apricot
–       1 kg of sugar
–       The juice of 1 lemon
You can also choose to either dry the apricots or keep them in their mellow state.
–       Peel the apricots and place them in a casserole (also not too deep) and boil them with sugar.
–       Then add the lemon juice and stir until thick.
Quince jam:
Ingredients for 2 kg serving of quince jam:
–       2.5 kg of quince
–       1 kg of sugar
–       The juice of 1 lemon
Can be made in 2 ways:
1)   Boil the quince with sugar so that it becomes creamy (spread-like)
2)   Cut them into cubes and soak them with the sugar for 2 to 3 hours, then boil them, adding the lemon juice
Ingredients:
–       250 g dough (made from scratch or frozen)
–       50 g Butter or Margarine
–       6 tablespoons Apricot jam
–       5 medium-sized Apples
–       1 teaspoon Cinnamon powder
–       A bit of Icing Sugar
How to make it:
–       In a greased pie mold, spread the dough and poke it randomly with a fork so that it doesn't inflate in your oven
–       Cut the apples in the way you like and spread them on the dough
–       On top of the apples, spread little pieces of butter or margarine
–       Then spread as much as you'd like apricot jam
–       Sprinkle with cinnamon powder and icing sugar
–       Place in the oven for about 20 minutes or until the dough looks golden