These caramelized nuts are proof that us cooks just love coming up with our own stuff. Getting ready-made dishes is just not enough anymore and with time, we become addicted to trying things out by ourselves. Jean, our beloved guest Chef here on Breadonbutter, fits this description exactly. He slowly became the type of cook who can't even think of not making his own ingredients and recipes. So yesterday, he decided to make his own caramelized nuts recipe on a cheese and wine night in, and he brought to it a delicious twist. I found it to be an excellent addition to the holiday Christmas treats around the house and a great idea for elegant and tasty party food when you're hosting a party.
Here's the recipe of these delicious Christmas treats.
What you'll need: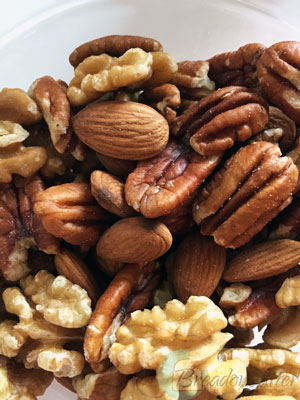 – 2 cups of raw pecan
– 2 cups of raw almonds
– 2 cups of raw walnuts
– 0.25 cup of maple syrup (the purest the better)
– 2 tbsp olive oil
– 2 tbsp mixed herbs: rosemary, sage, thyme, oregano
– 0.25 tsp cayenne pepper
– Salt and Pepper
How to make it:
1) Preheat the oven at 180 degrees celsius
2) In a bowl, mis the raw nuts with the syrup, olive oil, herbs and cayenne pepper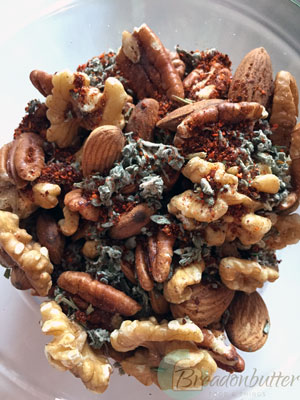 3) Spread the tossed nuts on a baking sheet and bake them for 15 minutes, stirring occasionally until brown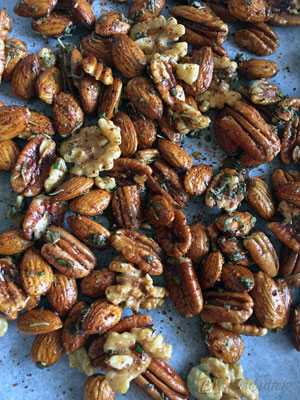 4) When they're out of the oven, season with salt and pepper and toss them until cooled
You can make them and use them for 2 whole weeks, provided you reserve them in an airtight container.
A very easy recipe that brings a twist to your Holiday food traditions! 🙂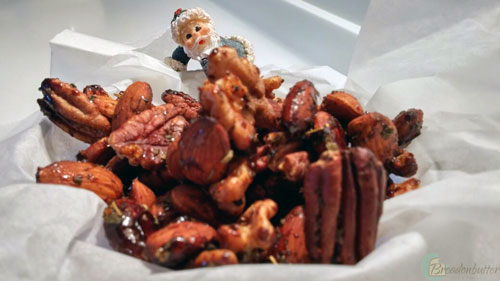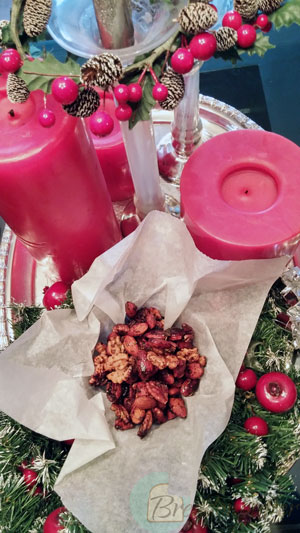 What do you think?
 Click HERE to follow our foodie and travel journey on INSTAGRAM