January is coming to and end and so is the soup series. I know February is also a cold month but it's time we move on to something new (the new series will be revealed next week).
The last soup recipe is something new and really delicious. We've been addicted to sweet potatoes for quite some time. Not only do they taste really good, but they also hold lots of health benefits. Sweet potatoes are high in Vitamins (B6, C and D), they contain iron, magnesium (THE anti-stress mineral), potassium and natural sugars. The best benefit they hold is that they are versatile. You can use them in any recipe you like and in any way you like too! Grill them, roast them, mash them or even add them to your smoothies. It's all possible with sweet potatoes 🙂
So here goes. The last recipe of the soup series – Gingery Sweet Potato Soup:

What you'll need:
2 tsp olive oil
1 medium onion, finely diced
2 tsp cumin
2 tbsp curry powder
2 carrots, sliced
3 sweet potatoes, diced
3.5 cups vegetable broth
2 tbsp ginger, finely minced
1 tbsp fresh coriander, chopped
1 tsp chili powder
2 garlic cloves, grated
Salt and pepper, to taste
How to make it:
1) In a large pot, cook the onion in the olive oil on medium heat
2) Add the ginger and cook for 30 seconds
3) Add the carrots and the sweet potatoes and stir for 2 minutes
4) Add the vegetable stock and bring to the boil, then lower the heat and add the coriander, salt, pepper, curry, cumin, chili and garlic. Let it simmer for 30 minutes (adding water if needed) until the potatoes and carrots are very tender.
And serve!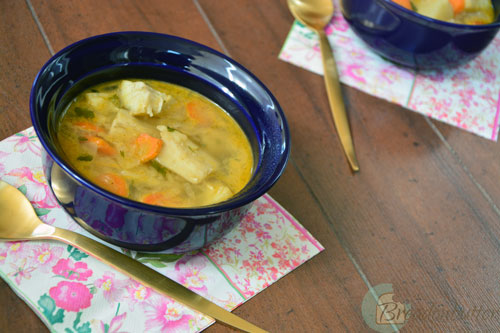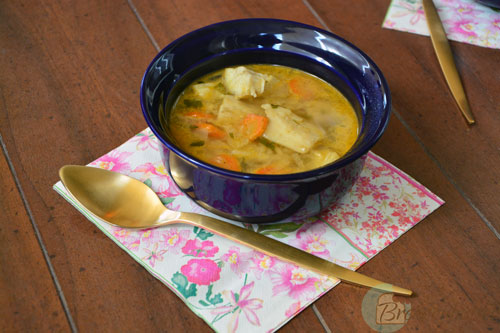 Sweet and warm 🙂
Will you try it? Are you a sweet potato enthusiast?
Items used in photos: Napkins and Spoons from Zara Home; Bowls from my mom's cupboards 😉
Click HERE to follow our foodie and travel journey on INSTAGRAM
and don't forget to tag @breadonbutter if you try our recipes!