Our wanderlust levels have been kind of fine lately, what with the business of Christmas and the new house. Then again, like any chronic condition humans have, it has strike again. My sister Mia went to Morocco not long ago and she succeeded in awakening the wanderlust beast in me again. Here's a summary of her trip.
If you're planning a short three-day trip to Morocco, the best itinerary would include Marrakesh and its surroundings. The ideal would be to book a nice atypical hotel in Marrakesh and visit the surroundings based from there.
Where to stay
La maison des oliviers is a small oasis of peace full of flowers and a nice pool located along a rural road just outside of Marrakesh. The house is called a "riad" which means a big villa surrounded by a wall. It's a traditional house with passages and lots of beautifully-designed common areas and a traditional Moroccan decor. The pool is amazing, surrounded by flowers and  a bar area. The weather was beautiful in December (23-25 degrees celsius during the day and 7-10 degrees celsius at night).
What to do, what to see and where to eat
Jemaa el fna.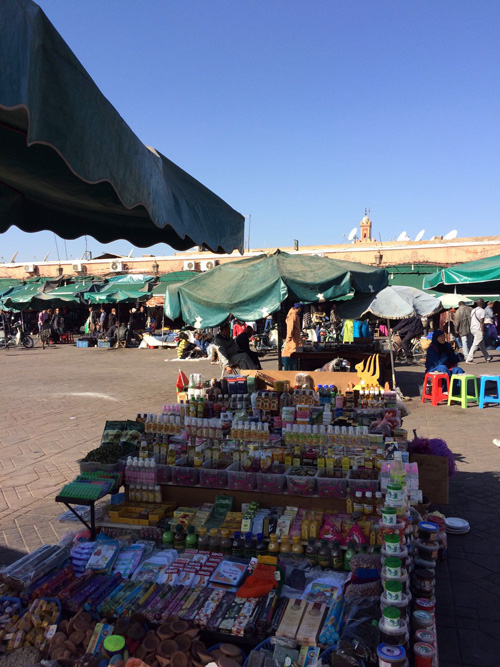 Do that twice: once during the day and once at night because the square transforms into two different scenes.
During the day, you'll see snake charmers and henne tattoo women, monkeys (not dangerous), orange juice stands (a must-try), merchants, and other exotic sights. Make sure you have an ice coffee or mint tea at one of the terraces overlooking the square (Les Terrasses de l'Alhambra is recommended by Lonely Planet and tried by us).
During the night, it transforms into a street food paradise with grilling smoke everywhere, lanterns and tents with benches to sit, and barbecues to grill a million things. You'll often see huge trays of tea with all kinds of spices in a huge barrel, and mountains of weird-looking chocolate cakes.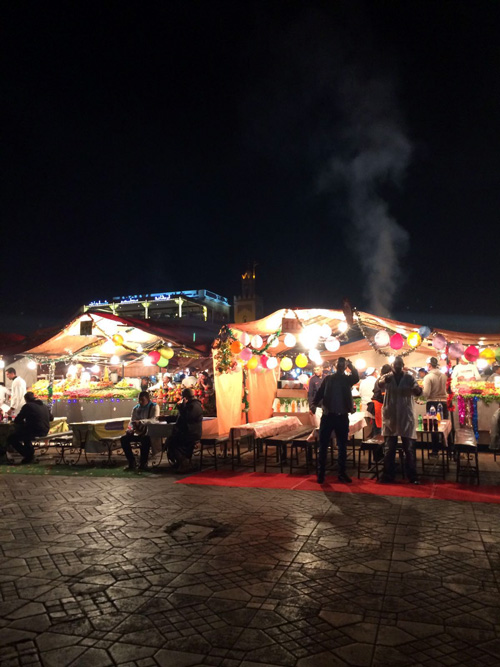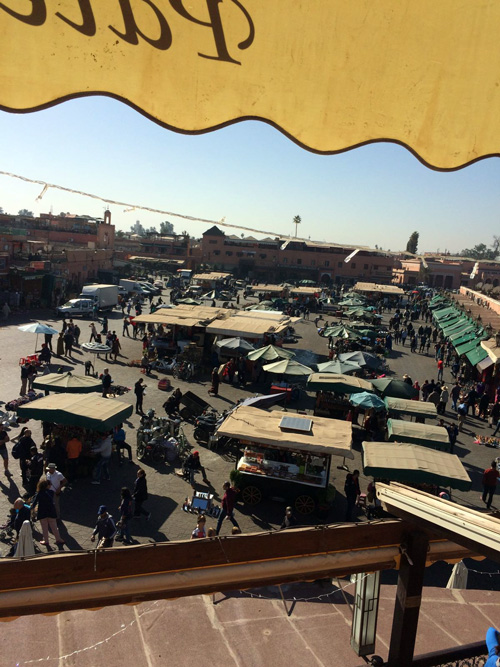 Souks of el medina.
That's the place where you'll find lots of merchants for all your needs. You'll see olive merchants selling succulent olives that you mus try. In the spice market, they sell spices and oils, chameleons and water turtles. There, you have to eat at Cafe des Epices or on the other side of the square at NOMAD, a very cool and trendy restaurant with a nice authentic view and a really cool terrace. Book yourself a table in the evening, cover yourself with a cape because it gets cold at night, and have a lamb Tagine – delicious!
For leather lovers, you can visit Les Tanneries where they make leather goods.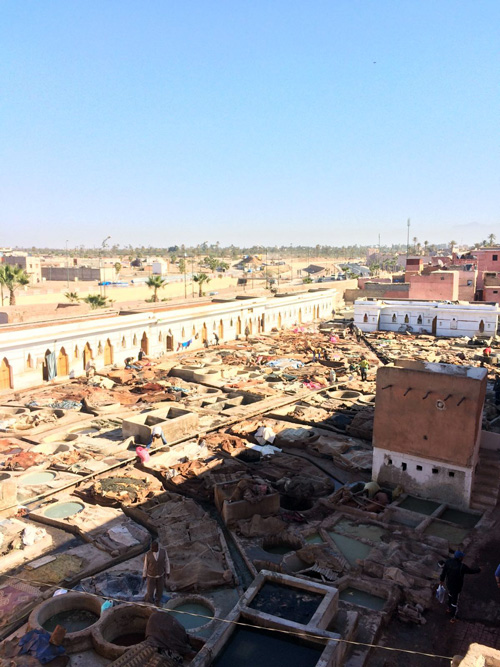 Jardin Majorelle.
It's a huge garden where the artist Majorelle planted all types of green from all over the world. He bought this house and made it his Art studio and grew exotic plants. Later on, Yves Saint Laurent renovated it and lived in that house which, when the great couturier died, became the Yves Saint Laurent memorial. In the Jardin, there's the Berberian museum that is quite interesting if you have the time to visit. You can find cool Yves Saint Laurent postal cards at the museum shop. Jardin Majorelle is like a paradise in the middle of Moroccan chaos.
You can also grab a bite at the restaurant (taste the kefta, tomato and egg tagine, it's to die for).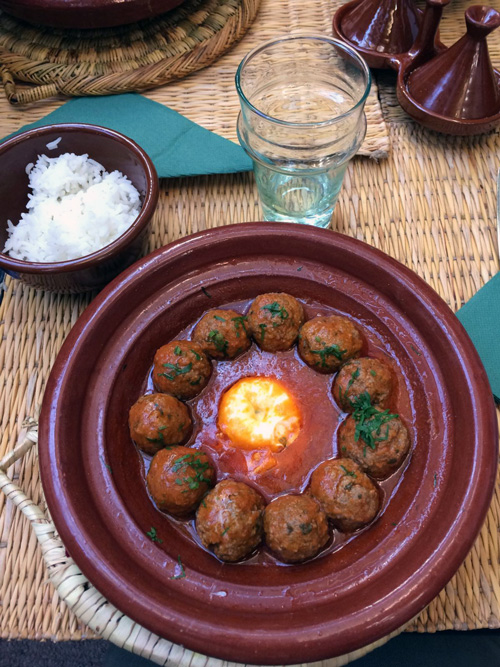 Camel ride.
When at the Medina, book a camel ride in any little shop that organizes them. They'll come and get you from your hotel and take you for an hour ride on a camel.
Tourism
Madrasa.
You can visit the largest Islamic college in Morocco to get a sense of the culture and heritage. Tile lovers, get ready to be amazed.
Koutoubia Mosque.
The largest mosque in Marrakesh.
Bahia Palace.
A Palace built in the late 19th century with a set of gardens.
La Mamounia.
The most luxurious hotel in Marrakesh is definitely worth a visit.
Day Trip
Essouira is a three-hour car-ride away from Marrakesh. When you get there, you absolutely must get a surf lesson then head to the port where you'll find a fresh fish market. Instead of going to a restaurant, choose your own fish from the market then head to a small stand where they will grill it and give it to you with bread and salad. You'll end up with a perfect and very affordable lunch! You can book this day trip with the same guide who took you for a camel ride.
Relax
Enjoy the pool and the hammam at your hotel when you find the time!
 Have you ever been? Anything we might have missed?
Click HERE to follow our foodie and travel journey on INSTAGRAM @breadonbutter_
and HERE to get your daily Breadonbutter news on FACEBOOK
Don't forget to tag us if you try our recipes and tips: #breadonbutter