Back in Rome last August (click here for more details), we fell in love with this place my sister had recommended (here). On the day we stumbled upon Sant'Eustachio Caffé, we weren't really looking for it, but just the sight of it made us feel like we had reached an oasis in the middle of the August heat. Once we'd taken a seat on one of the tables outside, we quickly learnt the difference of price between being served outside or just having a quick coffee inside, standing at the coffee bar. We opted for a seat, 1 cold coffee for me, one fresh Kampari/Orange for Jean and both of our captivating books. I can still feel the charm and pleasantness of it all 🙂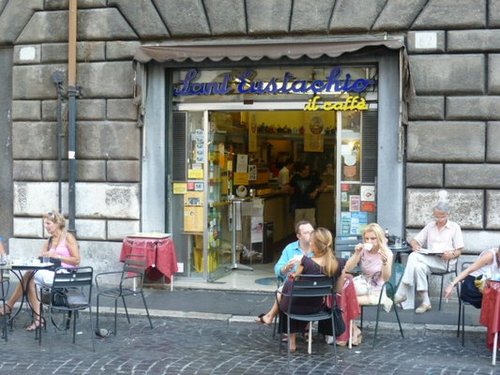 Sant'Eustachio Caffé is located in the heart of Rome, just minutes away from Piazza Navona and the Pantheon, facing the actual Basilica named for the martyr of Saint Eustace. We went there twice while we were there for a nice coffee a l'italiana. When you enter to order, you learn the charming story of this place.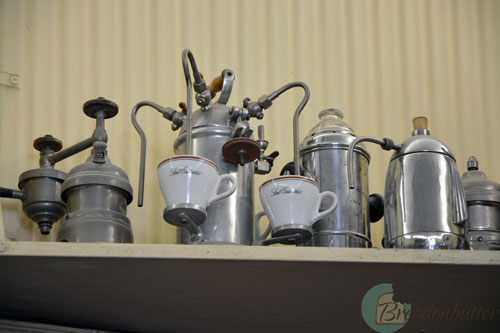 Sant'Eusatchio has been successful and crowded since 1938. Kissinger and many other international famous people have visited it. I say Kissinger because the owners are so proud of his visit that they hung the newspaper story about it on the wall and on their website (you can see the picture below).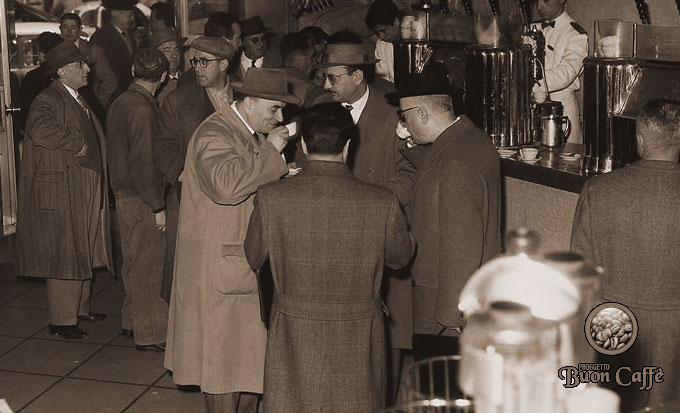 Sant'Eustachio is not merely a Coffee shop, but also a Roaster. Brothers Raimondo and Roberto Ricci began running the Caffè in 1999 to continue the family tradition of selecting coffee varieties and offering a range of product prepared with a legendary secret blend. Their priority is only one: ensure consistent quality. The Sant'Eustachio coffee blend is made with the best Arabica beans. The raw coffee is slowly roasted over wood.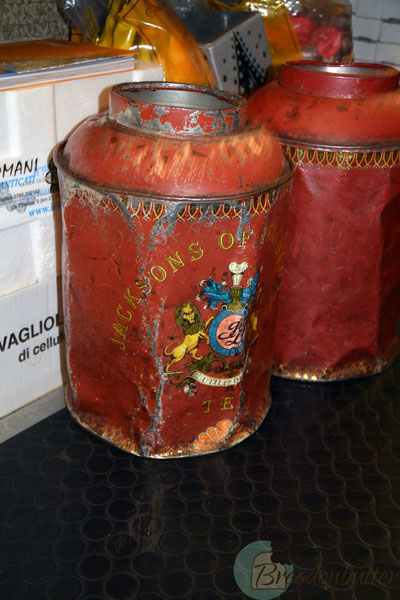 You can of course sit down for a nice cup of coffee but you can also purchase it and make it at home.
All the coffee varieties, roasted, washed and selected, are top quality. The freshness and the high quality of the product guarantee an ever fresh fragrance and a quintessential aroma which cannot be found in the coffees of large-scale retail trade.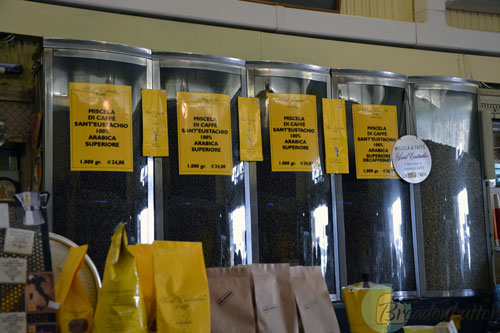 Of course, the place is now more touristic and more expensive than typical Italian coffee places, but in my opinion, at least one visit there would be a nice addition to your trip.
Another great thing about Sant'Eustachio Caffé is their Buon Caffé initiative
The Buon Caffé Program is an initiative by Sant'Eustachio Il Caffè. The Program consists in donating the extra proceeds from the sale of the traditional Sant'Eustachio Blend to COOPFAM, the Brazilian Fairtrade certified co-op from which Sant'Eustachio  buys coffee. The protagonist of this initiative is the consumer who, through a traceability procedure, can actually control the use of the proceeds.
Have you been to Rome? Any other places to recommend?