Due to popular demand, I am writing the recipe of a delicious Christmas Tree cake I made for Elle et Vire's Bake a Smile Christmas campaign. Baking usually makes me happy and peaceful. This time, it was twice the satisfaction because this cake was meant for people in need. Elle et Vire teamed up with Order of Malta Lebanon to help spread the Christmas spirit by baking as many cakes and cookies to offer and make people happy during this festive season.
As soon as I heard "kids" and "Christmas", I knew I wanted to bake using the Christmas Tree mold and "Christmassy" sprinkles I got from Polygel for the Homebaker. Chocolate cake and chocolate frosting were a given (because kids and chocolate come together) ;).
I didn't use my usual chocolate cake recipe this time. I was running out of time and decided to use many shortcuts, which didn't compromise the cake, so phew! So here is a super fast chocolate cake recipe you can make this Christmas, with time to spare for the frosting and decoration.
Super Fast Christmas Tree Chocolate Cake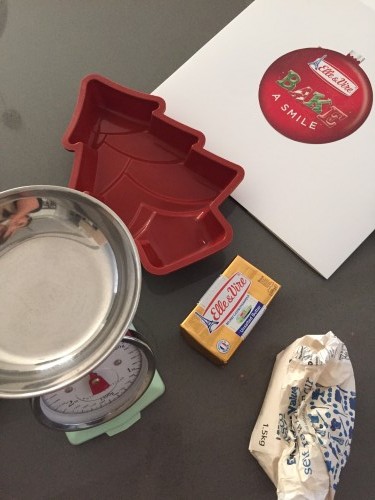 What you'll need (for a medium-sized Christmas Tree cake)
For the cake:
1 cup self-raising flour
3 Tbsp cocoa powder
250 g butter, melted
1/2 cup sugar
1 tsp vanilla extract
1 tsp baking powder
2 eggs
For the frosting and decoration:
200 g dark chocolate
15 g butter, cut in cubes
20 cl Elle et Vire fresh cream
3 tsp corn flour (to thicken)
Christmas sugar sprinkles (you can find them at Polygel for the homebaker or at the supermarket)
How to make it:
In a bowl, combine with a whisk/spatula the flour, cocoa, sugar, vanilla, and melted butter.
Add eggs and mix very well (you can continue with the whisk but the electric mixer is way faster).
Pour the mix in the Christmas Tree mold and bake 20 minutes.
While it's baking, make the chocolate frosting: In a saucepan and on very low heat, bring the fresh cream to a slight simmer. Turn off the heat and add the chocolate. Mix until it's melted, then add the butter and mix until it melts. Let it cool 2 minutes then add the corn flour and mix. Let the frosting cool completely. It should thicken as it cools. If you wish to make it thicker, you can add corn flour.
Let the cake and frosting cool down (I left to the supermarket to forget how impatient I was).
Spread the frosting on top of the cake, then sprinkle with colored Christmas flakes (this is the best part!).
And voila! There's your Super Fast Christmas Tree Chocolate Cake that makes kids AND adults very very happy 🙂