Since we haven't had a proper winter this year, we jumped at the opportunity of having winter food when the weather recently got weird and rainy. We had a cheese and wine night in with friends, and we also made a stew! One night, we invited my parents over. It was windy and chilly outside, we popped open a bottle of wine, and had a great conversation over Beef Stew marinated in beer.
A trick we learnt is that when you're making a stew, you've got to let the meat simmer in its sauce as long as you can for it to be very tender at the end.
Here's what you'll need (for 4 persons):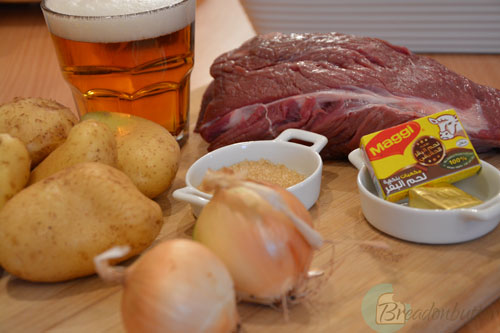 – 800 grams of beef/veal  (make sure you ask your butcher to give you beef/veal back steak – meaning a part underneath its shoulder – it's tender and not so greasy)
– Olive oil
– 2 red Onions
– 1 tablespoon of Brown Sugar
– 40 cl of brown Beer
– Veal stock (1 cup)
– Baby potatoes (as much as you'd like)
– Salt and Pepper
1) Slice the onions thinly and coarsely dice the beef meat
2) In a pan, cook the beef in olive oil just until they look golden, then take them off the pan and set aside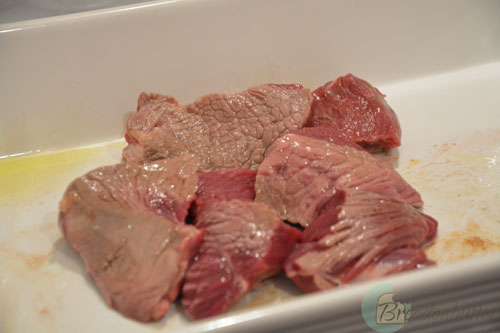 3) In the same pan, add the onions, cook them for a minute then add the brown sugar and let them slightly caramelize over low fire
4) Add the meat to the onions, then the beer and the veal stock. Mix and boil
5) Once it has boiled, pour the whole mix unto an oven dish and cook it in a 180 degrees celsius preheated oven for about an hour and a half. Don't be fooled by the fact that it looks cooked! A stew must simmer a long time for it to be really yummy and warm
6) Add the potatoes half way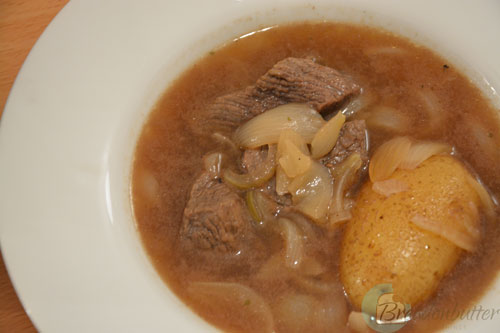 And enjoy!