Today I present you with the second recipe of the Lurpak Cook's Range collaboration series. The product used here is the Cooking Liquid. This product is the ideal balance of Lurpak Butter and Vegetable Oil. The butter's role is to give the dish you're cooking a delicious taste and golden finish, while the vegetable oil prevents it from burning. This product is great for pan frying meat, fish and vegetables and also works wonders for roasting, greasing tins and even baking! Shake it well before use and store it in the fridge.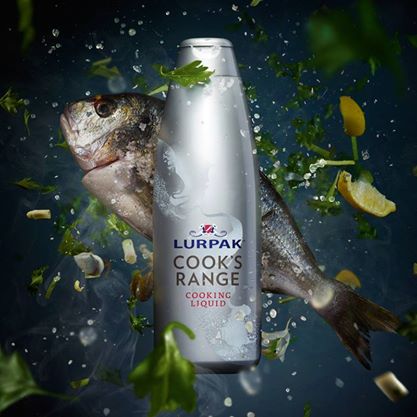 One of the recipes we made using the Cooking Liquid was a delicious Brown Vegetable rice with shrimp skewers. There you go. Enjoy! 🙂
Brown vegetable rice with shrimp skewers: Preparation: 15 minutes – Cooking time: 45 minutes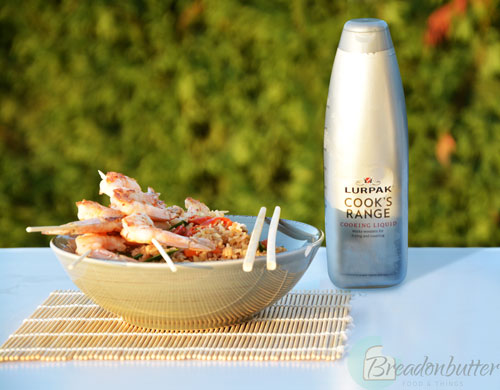 Ingredients: (for 2 persons)
For the brown vegetable rice:
 Brown rice
20 Whole green peas
2 large carrots
5 fresh Ginger clove
2 fresh Red Chilis
3 tablespoons oyster sauce
3 tablespoons soy sauce
3 tablespoons cooking liquid
1 teaspoon olive oil
For the shrimps:
 9 king prawns, headless but with tail
1 tablespoon of cooking liquid
1 teaspoons Ginger powder
1 teaspoon Chili powder
Salt and pepper
Dash of olive oil
Instructions:
 Make the brown rice (for 1 cup of rice, 2 cups of water): Wash the rice. Boil the water with 1-teaspoon olive oil. When the water has boiled, add the rice, cover and simmer for 25 minutes. Turn off the fire and keep it covered for 5 minutes.
Marinate the shrimps in olive oil, ginger powder, chili powder, salt and pepper
In a pan, heat the cooking liquid and add the ginger and carrots. Cook for 2 minutes.
Add the chili and peas and stir for 1 minute.
Add the oyster sauce and stir for 2 minutes
Add the rice and stir for 1 minute
Add the soy sauce and stir until all vegetables are tender
In another pan, heat the cooking liquid and cook the shrimps 2 minutes on each side
Bon appétit!
Brought to you by: