It's only Tuesday but with this weather, the weekend is already on my mind. There's nothing more pleasing than waking up on Saturday to the smell of a freshly prepared breakfast. Whether you're having a meal with family members, alone with your significant other or hosting a big brunch at home, here's a great menu to put together. Most recipes are not complicated and can be prepared in advance. It's all about a nice combination of easy breakfast dishes with fresh juices, coffee and tea.
On this breakfast menu: Blueberry pancakes, Potato and Bacon Egg flowers, all kinds of eggs and accompaniments.
Recipe #1: Blueberry Pancakes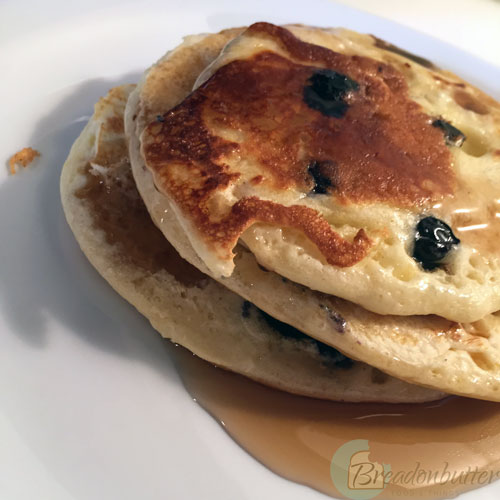 Make the pancake mix (for 2 persons):
In a bowl, mix 1 cup of flour, 1 egg, 1 Tbsp of sugar, and 1 Tbsp of baking powder, adding milk until the mixture is watery but still thick.
Make the pancakes:
In a greased pan, add a spoonful of pancake mix and top with 4 to 5 blueberries. Flip on the side of the blueberries and transfer to the serving dish. Top with maple syrup and enjoy!
Recipe #2: Potato Egg and Bacon Egg Flower, by our Designer Cook Maria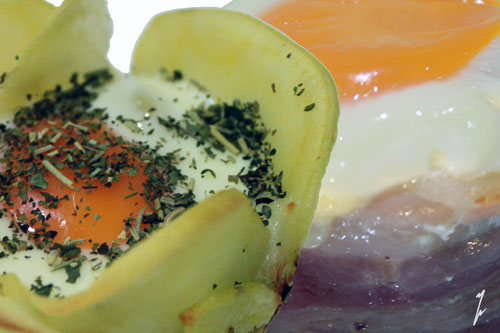 Potato flowers:
Ingredients (for 3 potato flowers)
1 potato
4 medium mushrooms
3 eggs
Bread of your choice
Shredded mozzarella cheese
Shredded parmesan cheese
Shredded gruyere cheese
A pinch of salt
Oregano
White pepper
Olive oil
Wash you potatoes, slice them then boil them for about 10 minutes with some salt and olive oil.
Dice the mushrooms and cook them in olive oil with just a bit of garlic and salt, until brownish.
Cut the bread into round pieces and fit them in greased ramekins .
Place the potato slices around the bread (resembling flower petals). Top with a mix of shredded cheese, mushrooms, salt, then cheese again. Break the egg on top, add salt and pepper, and place in a preheated oven for about 20 minutes (keep watching).
When the egg flower is baked, sprinkle with oregano and serve!
Bacon Flowers:
Go through the same steps as the potato flowers, replacing the potatoes with bacon.
Recipe #3: Eggs – Poached, Half-boiled (runny) or sunny-side up
Use the diagram at the end of this article for different ways to boil an egg, and this recipe for poached eggs.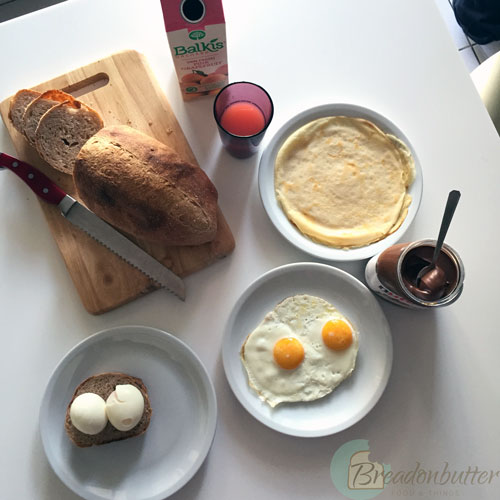 Accompaniments
Blood Orange juice (or normal oranges if it's not the season), Fruits (Raspberries, Blueberries, Blackberries, Bananas, Kiwi, etc.), Coffee, Tea, Peanut butter, honey, jam (recipe here in case you wish to make your own), and a generous big loaf of bread 🙂
 So who's in for brunch this Saturday? 😉
Click HERE to follow our foodie and travel journey on INSTAGRAM @breadonbutter_
and don't forget to tag us if you try out our recipes!