There are days when you just know what you need to eat to feel better. We all have that unwritten list of comfort food that is easy to make and can satisfy our tummies and overworked minds in no time. I won't bore you with my long list. For now, I'll just present you with one of my go-to dishes. I discovered this obvious meal at my mother-in-law's one day. We got to their house one afternoon and I saw that they had a tasty-looking potato meal. I asked what it was and they answered something like 'teased potatoes'. I'd like to tease my potatoes is what I thought. The recipe was simple, I was told. It's all about the spice mix you add to potato cubes, and – stay cool – adding an egg at the very end!  Without knowing exactly which spices to use and what were the exact steps, I set out to make my own 'teased' potatoes. I cannot guarantee that the ingredient quantities I'll be sharing now are the same every time. This is a question of taste, and of pure fun. Just put on some happy music and go spontaneous.
I'll share the ingredient and the steps I go through to make this dish and let you take it from there.
Comfort Food: Potatoes and Spices Recipe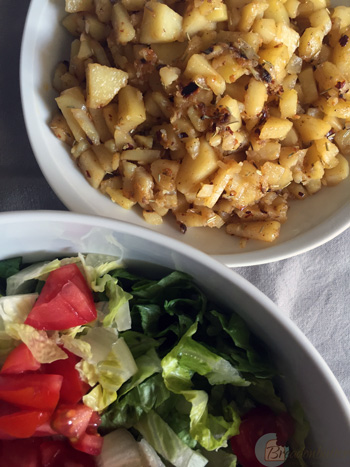 What you'll need (for 2 persons):
4 large potatoes, cut in small cubes
1 Tbsp Chili powder or Peperoncino
1 tsp Cumin
1 tsp Black Pepper
0.5 tsp Ginger powder
1 tsp dried basil
Salt, to taste
3 eggs
4 Tbsp Olive oil
3 garlic cloves, sliced
1 medium onion, diced
How to make it: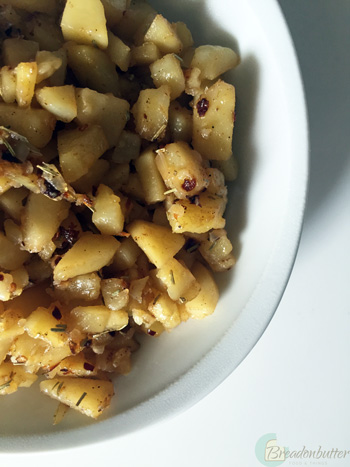 In a large pot, cook the garlic and onions in the olive oil slightly.
Add the potato cubes and mix to combine everything together. Cook until the potatoes are slightly tender.
Add all of the spices and mix to combine.
Cook until the potatoes are tender the add the salt and immediately break the 3 eggs then mix to combine.
Serve once the eggs are cooked and enjoy (dare I say, in front of the TV)! 😉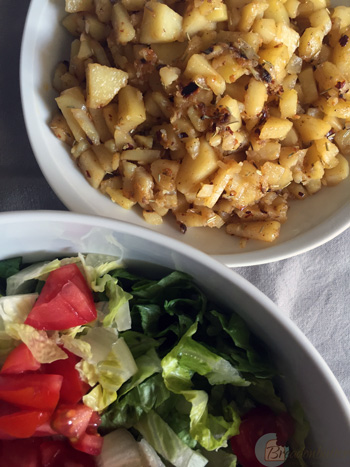 What's your go-to comfort food?
 Click HERE to follow our foodie and travel journey on INSTAGRAM @breadonbutter_
and HERE to get your daily Breadonbutter news on FACEBOOK
Don't forget to tag us if you try our recipes and tips: #breadonbutter