December is one of my favorite months. It's crazy and hectic but well worth it. I love waiting for my loved ones to step out of the plane, I love the lights, I love the cold and warmth in the atmosphere.
During that month, there is rarely a free evening at home doing nothing. There's always an event to attend, someone to see, or just too much traffic. But there's always that one day, where you find yourself with nothing to do and you sneak back home after work to relax. Two nights ago, we made these delicious mini fusilli with extra tomatoes and basil we had in the fridge. These kind of meals are best had on the living room floor, with an excellent bottle of wine and a great movie.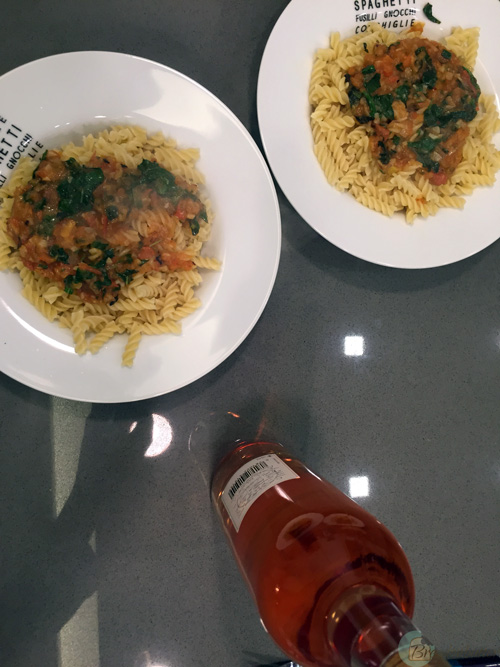 What you'll need:
A box of mini fusilli
2 cloves of garlic, diced
1 medium onion, diced
4 medium red tomatoes, diced
8 basil leaves, coarsely chopped
3 Tbsp olive oil
Salt and pepper, to taste
Grated parmesan cheese
How to make it:
In a pot, boil water and cook the pasta until al dente.
Meanwhile, in a medium saucepan, cook the onions and garlic in 1 Tbsp of olive oil until slightly golden.
Add the tomatoes, the rest of the olive oil, salt and pepper to taste and bring to the boil.
Once it's boiled, lower the heat and mash gently with a mixer handle.
Taste and season accordingly, then add the basil, mix for a minute and turn off the heat.
Remove the pasta from the colander and place in the dish. Add the sauce on top and sprinkle with grated parmesan cheese.
Enjoy with red or whichever wine you prefer 😉
Sobremesa topic for this meal: The Christmas menu, how to decorate the house for Christmas Eve, plans for New Year's Eve.
Click HERE to follow our foodie and travel journey on INSTAGRAM @breadonbutter_
and HERE to get your daily Breadonbutter news on FACEBOOK
Don't forget to tag us if you try our recipes and tips: #breadonbutter