Over the past few years, I have come to embrace winter and its cold weather. I never find myself complaining about the rain or wind during this time of year simply because I enjoy cozying up at home and having great conversations with family and friends over food. Some of you might be thinking this weather is ideal only if you get to stay at home all day. On the contrary, I appreciate home even more when I'm away at work all day. There's something actually comforting about getting home to take a hot bath and curl up in front of the TV with a nice snack. Since tea is my go-to drink during weeknights, the best snack to go with it is a bowl of fluffy madeleines. My friend Hisham thinks it weird to love fluffy shell-shaped mini cakes so much, but for me, they're little pieces of heaven. Besides, they're the easiest dessert to make and the satisfaction you feel after removing them from the mold is kind of weird to describe. You have got to make it! Here's an easy and hassle-free recipe:
What you'll need (for 21 madeleines)
150 g flour
100 g sugar
70 g butter, melted
3 eggs
Zest of a clementine (2 teaspoons)
1 tsp baking powder
How to make it
Pre-heat the oven at 190 degrees celsius
In a bowl, whisk the eggs and sugar until the mix is foamy
Add the melted butter, the zest, the flour and the baking powder, and mix well
Fill 2/3 of each madeleine mold, and bake for 10 minutes, checking constantly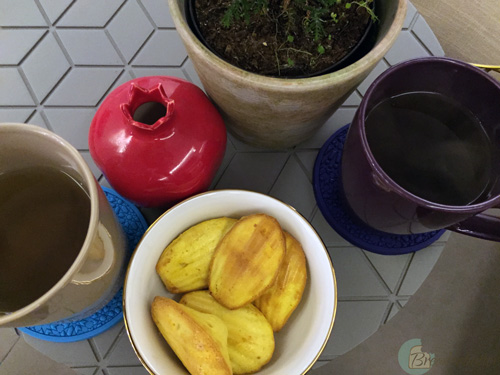 Are you a madeleine fan?